Character Name:
Xonin
Level:
60
Class:
Warrior
Specialization:
Fury
Age:
16
Occupation:
Student
Location:
Canada
Expand on your talent build(s), gear/stat choices and consumable preferences. Sources of tests and theorycrafting are especially valued here. Also provide links to the talent builds you choose to expand on:
Fury: 17/34/0
Stat Priority: 8% Hit Chance > Crit Chance > Strength > Attack Power
For consumables: Elixir of Giants, Brute Force, Winterfall Firewater etc.
Sources are from experience.
Provide a picture of your UI and expand on your choices of addons, keybinds and configuration/disposition: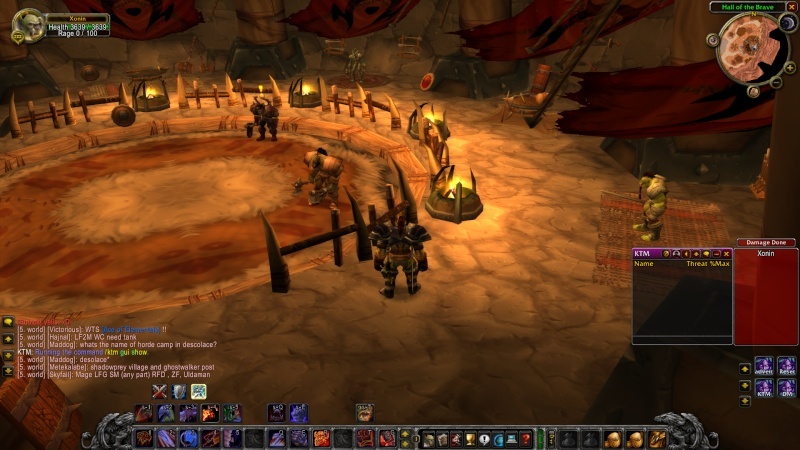 It's nothing special.
I'm using:
BigWigs
KLHThreatMeter
DamageMeters
SuperMacro
My Keybinds are:
1-6
Shift+ 1-6
Q/E/R/T/F/G
Shift + Q/E/R/T/F/G
And my scroll wheel.
Computer and internet specifications (this includes relevant clock speeds):
CPU:
Intel Core 2 Quad Q8200 @ 2.33Ghz
GPU:
ATI Radeon HD 5670
Memory:
8gbs of DDR2 Quad Channel
Boot Drive/Speed:
600Gb Caviar Blue 7200RPM Hard Disc
OS:
Windows 7 Ultimate 64-Bit
Bandwidth Upload:
640Kbps
Bandwidth Download:
7Mbps
Wired/Wireless:
Wired
Stability:
Constant 70 - 80 MS, I never DC.
What is your past PvE experience?
Molten Core: 100%
AQ20: 100%
BWL: 100%
AQ40: All but C'Thun
Naxxramas: Up until Grand Widow Faerlina
All of these are done as Fury.
I stopped PVEing after Vanilla, so really nothing to be noted in the expansions.
What is your past PvP experience?
The only PVP I've liked is World or Arena.
In Arena I've gotten 2300 in 3s and 2s as a Ret Paladin, this was in Cataclysm.
I haven't been playing Warrior alot in Retail because they got kind of boring.
Haven't gotten any high ranks either in Vanilla.
Do you have any other notable gaming experience?
The only game I've taken seriously is World of Warcraft. So no, I don't.
Do you have any experience in leadership or held a role of special responsibility in any type of organization (including other WoW guilds)?
I have never been a leader for a guild doing progression. Or have been a Guild Master. But I have lead people in multiple situations:
Arena, Dungeons, and sometimes not in games. I'm not looking to lead a raid though, just to be leaded.
Why did you choose Clutch?
Well, as far as I've seen they're the best Guild on Horde. Well organized, skilled, positive people is what I'm looking for. And I believe I might find it here.
Why should Clutch choose you?
Well, I don't want to sound like I have have some huge ego. Saying good things about myself. I think I've stated myself well enough in the questions above.
Is there anybody in the guild who would be willing to vouch for you?
I don't know anyone in the Guild, so no.
Sept <3
What hours are you able to play?
I need 4 - 5 hours a day for school work. But it's flexible since I'm home schooled. So pretty much everyday whenever the Guild is raiding.
Is there anything that could impede on your availability to raid (sports, vacations...)?
Nope, unless there's some random occurrence. Like my house catches on fire. But other than that, no.
Have you read and understood all the guild rules?
The dingo is frisky

Thanks!

Last edited by Xonin on Sun Jul 15, 2012 6:23 am; edited 2 times in total



Posts

: 1


Join date

: 2012-07-09


Location

: Canada






Posts

: 9


Join date

: 2012-07-03


Location

: England



Xonin wrote:The dingo is frisky
You bet your bottom dollar it is.
+1
Frisky Dingo




Posts

: 55


Join date

: 2012-04-10



Declined, good luck finding another guild.
Mudkip




Posts

: 109


Join date

: 2012-04-10





Similar topics
---
Permissions in this forum:
You
cannot
reply to topics in this forum